Hi friends! The newest Collection from Catherine Pooler Designs, All Things Fall,

will be available next week! StampNation members get to order early on August 2nd. General ordering opens on August 3rd.
To begin this amazing release there are 5 brand new inks to add to your NEUTRALS collection...
Buttercream, Spiced, Macchiato, Cargo and S'Mores....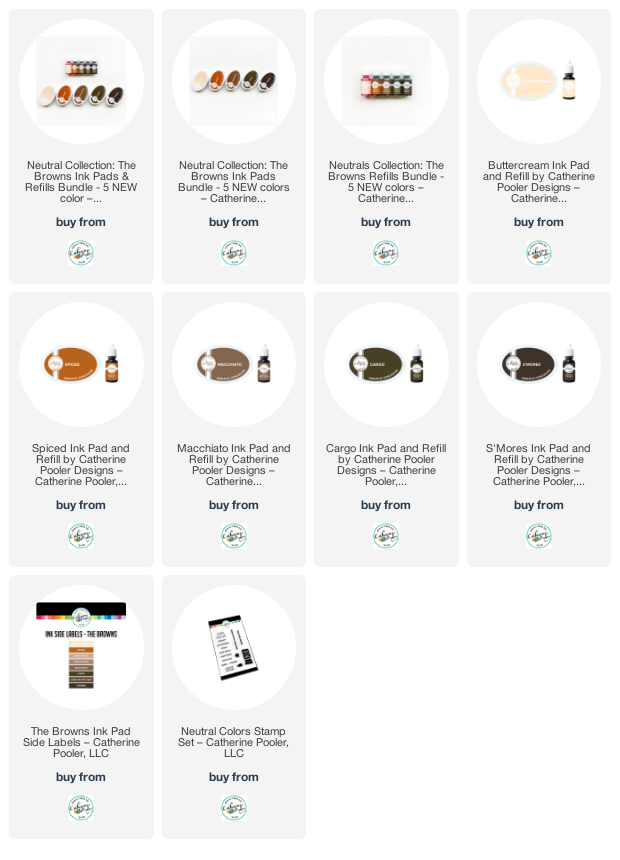 There are also new side labels for your inks and the new "Neutral Colors Stamp Set" for ink swatching too! Don't forget to add those to your cart on Wednesday!
The first bundle revealed today is called Lattes & Leaves!
Lattes & Leaves bundle includes:
Fall Calls for Lattes Stamps & Dies

Blowing Leaves Background Stamp


Oh So Good Word Dies
Purchase these products individually or in the bundle at a discount!
Friday ~ Hang out with Erika on the Catherine Pooler FB Group at 12 noon ET. 2 more bundles will be revealed!

Monday ~ Make some fun cards LIVE with Catherine & Erika on the Catherine Pooler FB Group at 12 noon ET.
Tuesday ~ StampNation early ordering at noon - Live on Facebook, StampNation ONLY live 3pm (private youtube)
Wednesday ~ The whole release goes live in the CP Shop at 9am ET! PLUS a Live YouTube at 12 noon ET.
We sure hope you'll join us or check out each day's replay!
Thanks so much for stopping by today!
SUPPLIES
***Please note that new release products are linked below, but won't be live in the store until the times mentioned above.
A list of supplies I used can be found below, just click on the picture below to be taken to where you can get the product.
I do use some affiliate links when I can, this means I will get a small commission if you choose to purchase the product using my link-this is at no cost to you! I really appreciate your love and support!